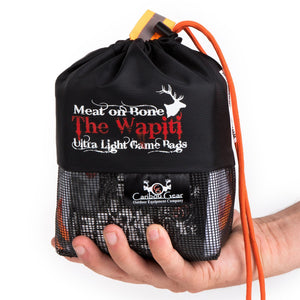 Lightweight, strong, synthetic nylon game bags that breath well and are reusable 

Includes five game bags; four elk quarter bags and one for loose meat

Total kit weighs 1 lb 2 oz
Breakdown
The Wapiti game bags offer ample room for the largest bone-in elk quarters. In most cases, you can even fit a full hind quarter and front quarter in one bag. The set includes five game bags (4 quarter bags and 1 loose meat bag) with light reflective attachments and lock loops strategically placed for locating in your pack or the darkest of nights. The smaller bag in the set of five is great for backstraps, tenderloins, and loose meat. Caribou gear game bags are made from ultralight strong synthetic material and can be washed and reused year after year.
Get yours today at Straight 6 Archery!