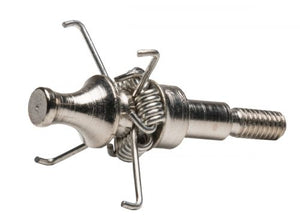 Known as the "Unloseable miracle point." The spring arm are 1" in diameter and stop arrow loss by grabbing onto anything they hit. The Judo won't disappear under grass, or stick into trees. Practically indestructible.
Designed to fit all carbon and aluminum arrows as they have an industry standard 8-32 thread. This is the same thread used by all arrow inserts (except Easton Deep Six).
Available in 100 and 125 grains. Please specify. Sold as a 2-pack.
Ultimate Stump Shooting Point!
Practically Indestructible!
Industry standard insert adapter